Mitchell's 79 series, one of the biggest build we have undergone to date.
Mitchell brought his VDJ79 Dual Cab to use with nothing but genuine Toyota bar work and a BULL Motor Body.
With no real budget and a want to have the ultimate touring vessel, we threw the book at Mitch. And this is the end result!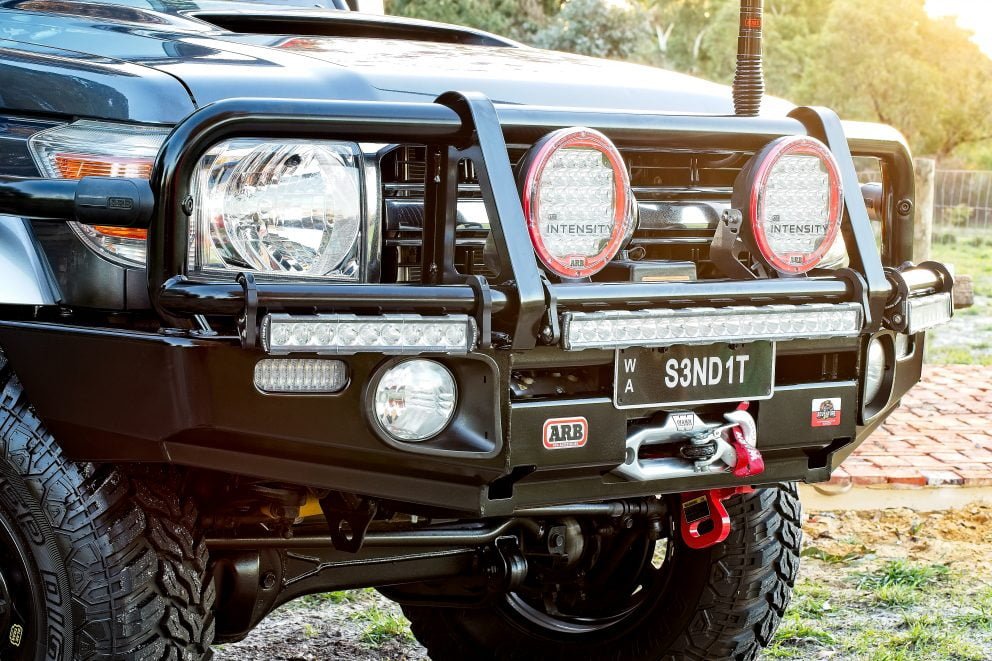 The Front End
– ARB 60.3mm BigTube Bull Bar with Foglight Kit
– ARB 60.3mm BigTube Side Rails and Steps
– ARB Radiator Protector Plate
– ARB 8T Rated Recovery Point
– ARB AR32 Intensity LED Spot Lights
– Bushranger Nighthawk LED Light Bars x3
– Warn Zeon 10,000lb Electric Winch
– GME AE706B UHF Antenna
The Cockpit
– Department of the Interiors Full Length Floor Console
– ARB LINX Digital Interface System
– HEMA HX-1 Navigation System
– Dash Full of Factory Style Switches
– 4wd Interiors Centre Roof Console
– GME TX4500S UHF Radio 80Channel
Under The Hood
– HPD Stainless Steel Catch Can
– Adventure 4×4 Custom Electrics Platform
– Adventure 4×4 Fuse Blocks x2
– Circuit Breakers x4
– LED Strip Lighting on Pressure Switch for Bonnet
– Adventure 4×4 Exclusive Custom Electrics Panel
– Adventure 4×4 Fuse Block
– 6x Circuit Breakers
– Redarc BMS Battery Management System
– Redarc Pure Sinewave Inverter
– 7 Panel Rocker Switch Face
– 4x 12v Outlets
– MSA DS95 Drop Slide
– Bullet Welding Custom Drawer
– Narva LED Strip Lighting
– Pioneer Stereo System
– Gas Hot Water System
– Custom made shower head attachment to canopy door
– Seated gas bottle