Adrian's Toyota Fortuner
Adrian brought his Fortuner to us with a huge list of upgrades, and we wanted to make it happen for him. This car was a dream to work on and it was an absolute pleasure to watch throughout the whole process. We at Adventure were so happy with the final result and so was Adrian when we handed the keys over.
Up Front
 – ARB Summit Winch Compatible Bull Bar with fog light kit and colour coded for that perfect match.
– Warn Evo 10S Winch
– Safari Armax Snorkel
– ARB Hose Coupling Outlet From Compressor
– ARB Side Rails And Steps colour coded
– GME AE4704B Antenna
– LED Spotlights and HD wiring Harness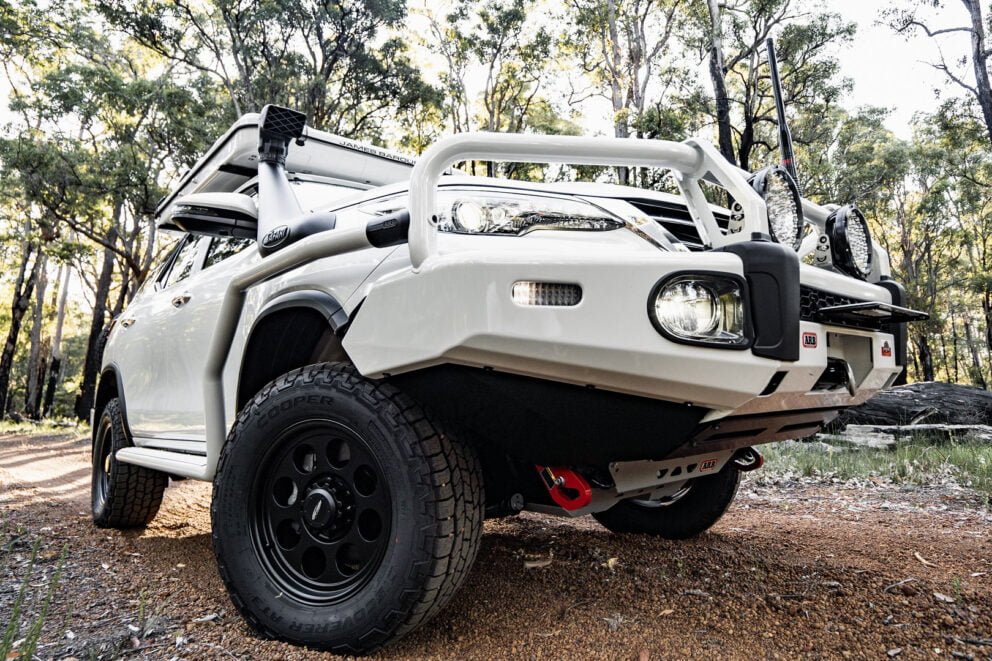 The Underneath
– ARB Under Vehicle Protection
– ARB Dual Recovery Points
– Old Man Emu nitro charger sport suspension system
– Old Man Emu Coil springs and rated rear coil springs
– Airbag Man HD Airbags
In The Engine Bay
– Red Arc BCDC Dual Battery System
– Red Solar Anderson Plug
– Diesel Care Fuel Filter Management System
– Diesel Care Catch Can
– ARB Diff Breather Kit
– ARB Single Air Compressor
Up To
p
– Rhino Rack HD Cross Bar Roof Rack
– James Baroud Explorer Evolution Roof Top Ten
– ARB 2.5M Awning With LED Light
At The Back
– Kaymar Rear Bar With Double Jerry Can Holder And Single Wheel Carrier
– ARB Elements Fridge Freezer
– ARB Cargo Gear Wheelie Bin Bag
– ARB Camping Chair
– 12 Volt QVEE  Dual Ciga socket Outlet
The Interior
– Dual Battery Volt Gauge Reader
– GME XRS-330 UHF Radio
– Twin 12Volt USB Outlet
Final Results